The park contains beaches, nature reserves, walks and so much more. The park offers high-quality facilities for communities and visitors. It also provides improvements for wildlife and contributes to the local economy.
Dogs
Most of the land is privately owned and dogs must be under close control. The beach is the best place where dogs can be let off the lead if not in a dog restriction zone. Visit East Lindsey District Council's website for information about restrictions.
Horses
Riding is allowed on all of our beaches apart from between 1 April and 30 September between 9 am and 6 pm or when the Blue Flag is flying.
Wildlife
The area is great for wildlife, whether it's the spectacle of a large flock of waders or the individual grace of a marsh harrier. To check out what you might to see throughout the year visit the Lincolnshire Wildlife Trust website.
Walks
Walking is a great way to explore the area and get close to nature. We have three circular walk routes starting from Huttoft, Anderby Creek and Chapel Point. You can find directions and maps in our walk search. There is also the England Coast Path to enjoy. Visit the National trails website to find out more.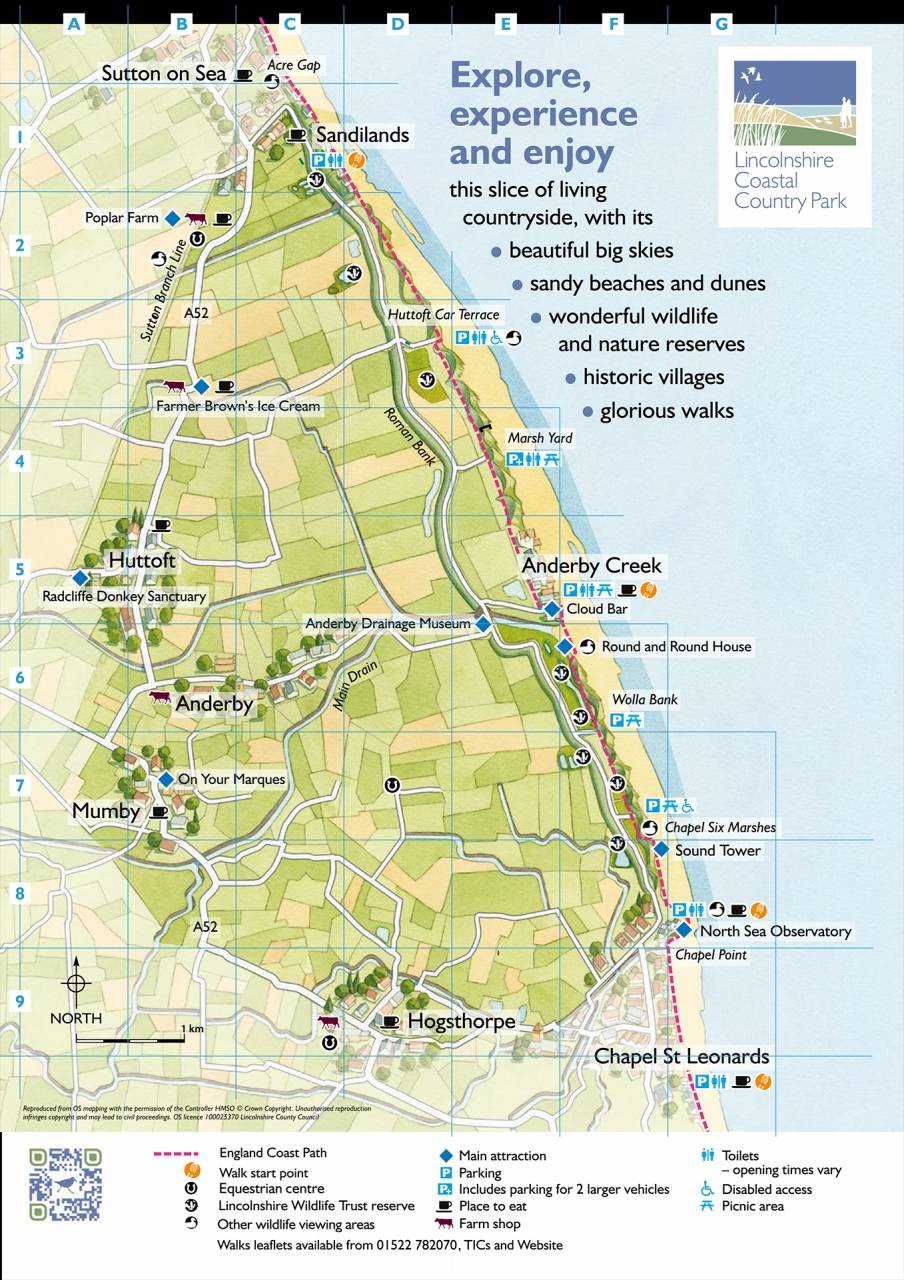 Coastal access points
The coast is part of our national identity. Valued for its scenery and as a place for relaxation and enjoyment.
We have provided points along the coast to provide access to the beautiful coastline.
Overnight parking
View a public notice of our intention to revoke the byelaws.
Byelaws prohibit overnight parking (between 10pm and 6am) at the following coastal car parks:
Anderby Creek
Wolla Bank
Marsh Yard
Moggs Eye
Huttoft Car Terrace
Chapel Six Marshes
We are no longer issuing new or renewing overnight fishing car parking passes due to the forthcoming introduction of car park charging at the coastal car parks. One element of the new system is the prohibition of overnight parking, which will result in a parking fine issued to anyone contravening the regulations. Before we are able to consider issuing fishing overnight parking passes, a number of back office technical issues need to be ironed out. We apologise for any disruption this causes.