Skid avoidance car training
All courses are suspended at this time.
Our skid training vehicle simulates driving on ice, slippery roads and aquaplaning.
You will learn how to handle these tricky situations and build your driving skills.
The course last three hours and is open to any full licence holder. It covers:
how to identify and recover understeer
how to identify and recover oversteer
knowledge of ABS and ESP
understanding the balance of the car
Team building or parties
We offer half-day or full-day courses for up to 12 people.
The course is open to full licence holders. Non-licence holders can take part as a passenger.
Activities include:
skid car experience
PS3 racing simulator challenge
driving manoeuvring exercise
blindfold driving
timed trailer reversing
driving different vehicles
A buffet lunch can be provided.
Car crash simulator
Our car crash simulator replicates the experience of a serious road crash. It highlights what can happen due to poor decision-making.
Prices start at £150, depending on the time and location of the event.
It lasts 8 to 10 minutes and can seat up to four people.
The participants will watch a video that involves a young driver and passengers. The audio-visual technology and suspension will give them an idea of what a collision is like.
They will learn about the fatal four:
drink/drug driving
seatbelts
speed
distractions (for example, mobile phones/peer pressure)
The simulator is not suitable for under 14s, due to its graphic nature.
You must notify if any potential participant suffers from any health problems, such as:
emotional/psychological issues
asthma
respiratory issues
epilepsy
muscular, skeletal or nerve issues
Enquire about a driver training course
Enquire about Lincolnshire Road Safety Partnership training
BikeSafe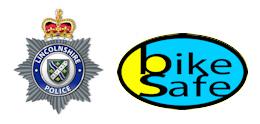 Lincolnshire Road Safety Partnership and Lincolnshire Police run BikeSafe.
The Lincolnshire BikeSafe team are all volunteers and passionate about motorcycling and sign-posting riders on to appropriate post-test training. The team is made up from serving police officers, retired-police officers, IAM or RoSPA advanced motorcyclists and road safety professionals.
Further details and how to book your course can be found on the BikeSafe website.
Mileage for Life
This an enhanced refresher course for senior drivers who want to continue to drive safely.
This is both a theory and practical course. It is free for over-60s.
The theory session focuses on issues such as:
changes in regulation and legislation since their test
new signage and driving styles
eyesight and judgement
restrictions in physical movement
driver confidence
We can hold courses in at Sleaford, Woodhall Spa, Pinchbeck, Boston, Swineshead, Lincoln, Market Deeping, Grantham and Skegness.
We arrange the practical element for a suitable date with qualified driving instructor. This is not a driving test.
The session is tailored to address your areas of concern. It will help to build confidence around specific aspects of driving.
To make an enquiry, email [email protected] or call 01522 805800.
Terms and conditions
You must check all documentation sent to you. If you have not received a confirmation email contact [email protected]
The course fee is payable by debit or credit card at the time of booking. Cash payments are only accepted when booking a taxi driver course. Contact the Lincoln office at

[email protected]

to arrange a visit. The booking cannot be confirmed until payment has been received.

All changes made by you to the date and time of a booking are subject to availability and charges.

You must bring a valid photo card driving licence, or a paper licence plus another form of photographic ID. For example a valid or expired passport. If you cannot provide a valid driving licence/photographic ID please go to the DVLA driving licence check on the gov.uk website. Print and bring the necessary documents in order to prove validity.

For minibus training ensure you hold the correct licence category for the minibus you will be driving.

We advise if you are attending a taxi course to read an up to date highway code. Consider booking a local driving instructor for a pre course driving lesson (at own cost).

If further advice is required please contact Lincolnshire Road Safety Partnership on 01522 805940.

We will try to accommodate any additional requirements. You must inform us at the time of booking. If no such indication has been made, we will not be held responsible for failing in the provision of any additional requirement.

You will be given an eyesight test for courses involving on-road driving. If you fail the eyesight test you will not be permitted to take part in the driving element of the course. A further course may be rearranged subject to availability and charges. Please seek advice from an optician in advance of your course if you have concerns over your eyesight.

If the course includes a practical drive, attendees must wear appropriate clothing and footwear. You must bring your glasses or contact lenses with them if needed.

Smoking of any kind will not be permitted within the building, including e-cigarettes. Smoking is only permitted in the designated smoking area.

Satisfactory completion of the course is dependent upon attendance throughout. You must make a full and positive contribution. Disruptive behaviour is not acceptable. If you leave the course before it finishes, it will classify as a non-completion.

If we are unable to deliver the course, we will reschedule the course as soon as possible and without charge.

If the course is to be delivered from your premises or at a venue chosen by you, please inform us of available resources.

All records are retained in accordance with the general data protection regulations. They will be held for 12 months from the completion of the course (50 months for minibus courses). After the expiration of the retention period, the records will be destroyed. Data retained is accessible to clients on request.

If you have any queries telephone 01522 805940.
Charges
Cancellation of course more than 14 calendar days before original course date: full refund
Rearrangement of course more than 14 calendar days before original course date: free
Cancellation of course date within 14 calendar days of original course date: no refund
Rearrangement of course date within 14 calendar days of original course date: full course fee payable