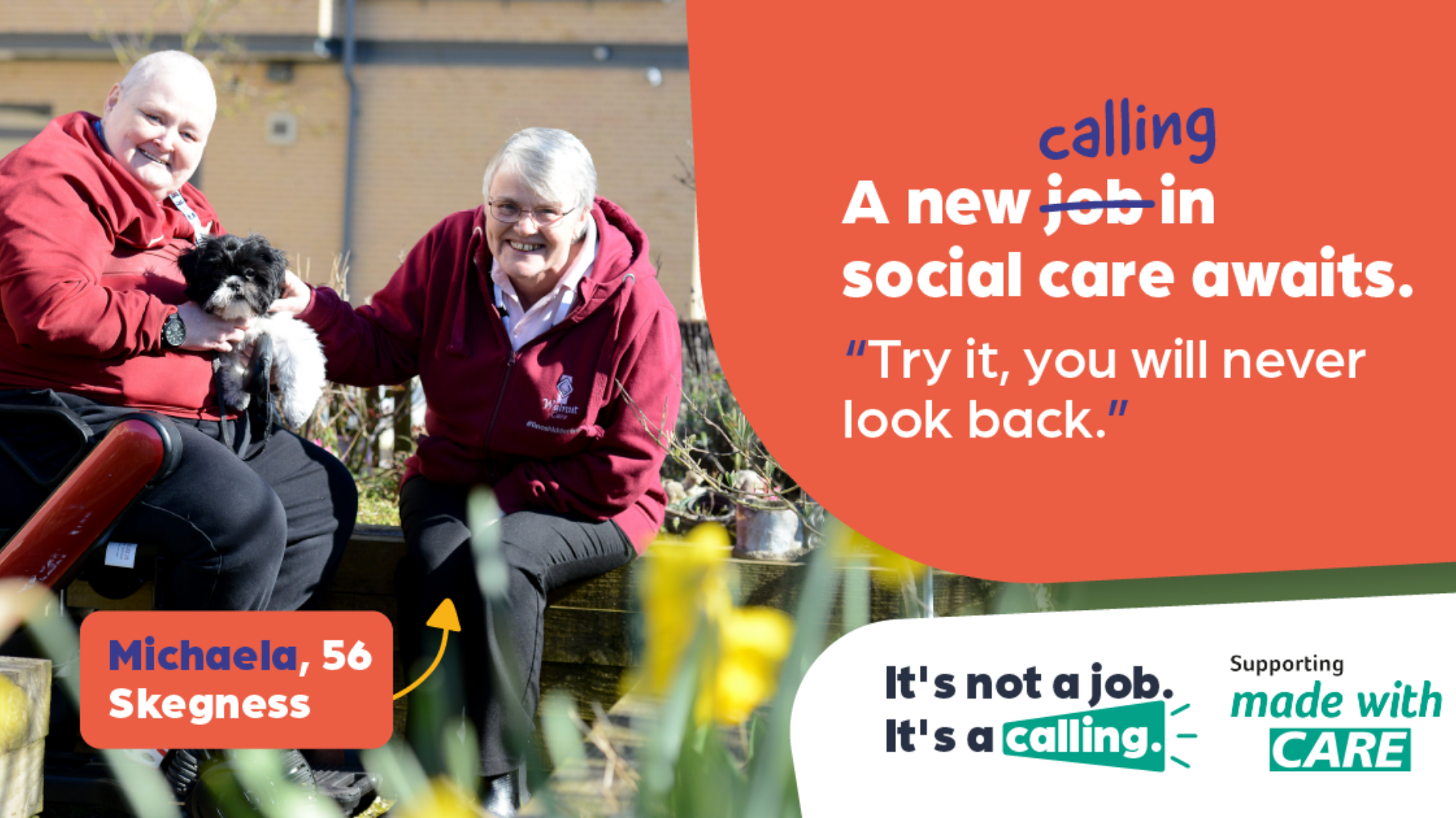 A new video depicting a day in the life of two carers has been released as part of the campaign to attract more people to the adult social care profession and shine a light on local carers.
The 'It's Not a Job' campaign, launched in March 2022, continues to build momentum in Lincolnshire as it highlights the fantastic care professionals already working in the adult social care sector.
To attract more people to the profession, the short film features a typical working day for two carers, Kai Wade (21) from Lincoln and Gina Bennett (45) from Boston. The carers enjoy the company of their service users, and the sense of purpose gained by supporting someone to continue living independently is a clear message throughout.
It also highlights the benefits to the carer for their work-life balance. Gina finishes her shift in time for an afternoon dog walk, and Kai spends quality time at the dinner table with his siblings.
Gina has worked her way up from carer, through to senior carer and now works as a CQL for Cera Care in Boston. She said: "It is where my heart lies, I really enjoy this line of work; it's rewarding and enjoyable. I'd say, do this job if you genuinely care – happy people make a happy workplace."
Kai works for Fosse Healthcare in Lincoln as a management support officer. His role involves both administrative duties and providing care in the home. He said: "I took an interest in home care because I have family working in the sector. Since I started, I've found I'm more in touch with my compassionate side and I've developed my people skills through getting to know the people I care for and colleagues in the office."
Gina and Kai also feature in other aspects of the campaign alongside colleagues from care providers all over Lincolnshire. From Wendy in the Wolds to Michaela on the coast, carers will feature in print and online as part of the campaign, celebrating the broad range of people attracted to the sector and highlighting the various benefits of the sector for carers.
Adult social care is very accessible for people looking to return to the workplace after a career break or wishing to transfer from another sector. Gina's colleague, Samantha Garvs (35), made the change from retail to health care. Samantha said: "Career progression is there if you want it. I started as a part time carer and now I'm a support manager for the east region."
Samantha works from home a couple of days a week, and when she comes into the office, she delights her team by bringing honorary carer, Esther the basset hound along with her.
A career in adult social care allows people to make a difference to the lives of others whilst still having time for other commitments. When Laura Jayne Bright (30) returned to the workplace from a career break, she chose the home care profession over a career as a registered nurse. Laura said: "My work pattern is brilliant for my family. I find working in care is flexible when you have children."
Prior experience and qualifications are not essential. What is most important is kindness, patience, and compassion. Care providers are looking for people with transferrable skills and a good work ethic. Tracy Allsop, 55, worked as a carer for over twenty years until ill health meant that she required support from carers herself, and looks back on her time fondly.
"I used to look after my grandma. I did the kidney dialysis for her. Then I looked after my mum with her arthritis. I just liked the care. When I moved to Skegness I got into care as a profession. I wished I'd done it sooner. I enjoyed talking to the older people and the stories they get to tell you."
Senior Care Worker, Michaela Wilkinson, 56, has been working in care for 11 years and currently cares for Tracy. She agrees that working in care fulfils a sense of purpose: "I feel good knowing that getting the service users up, washed and dressed keeps them independent. Try it, you will never look back."
A network of 9 home care providers, covering 12 areas, work with Lincolnshire County Council to deliver the home care service across the county. The county council has created a handy, short online form to help people in Lincolnshire connect with their local care providers to find flexible home care roles.
A single enquiry form on the webpage streamlines the process by connecting jobseekers with the care providers most suited to their location and preferences. Once the form is completed, one of the county's homecare providers will be in touch to answer questions and help to find a suitable role.
To find out more about starting a career in care, visit: https://www.lincolnshire.gov.uk/jobs-careers/enquire-career-home-care