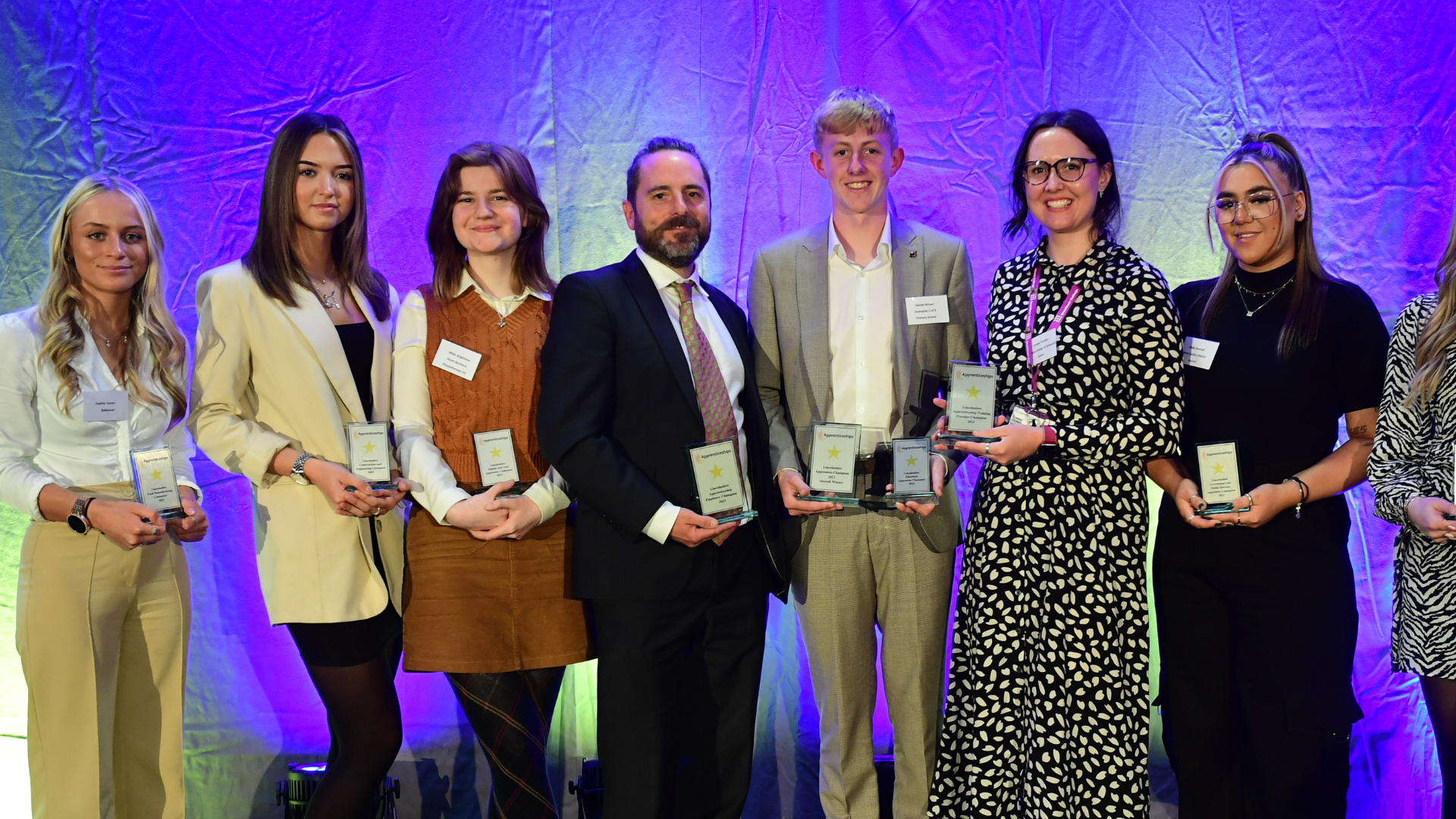 Lincolnshire apprentices, trainers and employers who have gone above and beyond to make apprenticeships a success, have been recognised at the Apprenticeship Champions Awards ceremony for 2023.
The overall winner of Apprentice of the Year was Declan Brown who has undertaken an apprenticeship at Scampton Church of England Primary School.
Headteacher Charlie Hebborn said, "The impact Declan has in the classroom helps children make good progress in areas such as reading, writing and maths. Pupils learn well because Declan inspires them and is a great role model."
Apprentice Champions were also awarded in sector categories, with the winners being:
Health and Care Apprentice Champion – Millie Brightman from Great Northern Physiotherapy Limited
Education Apprentice Champion – Declan Brown from Scampton Church of
England Primary School
Government and Public Service Apprentice Champion – Abbie Beastall from West Lindsey District Council
Food Manufacturing Apprentice Champion – Sophie Camm from Bakkavor
Construction and Engineering Apprentice Champion – Ellie Wilds from Balfour Beatty
Commercial Services Apprentice Champion – Leila Mae Hall from Masons (Louth) Ltd.
Cllr Patricia Bradwell, executive councillor for adult learning at the county council, said: "Again this year, we were so impressed by the drive and commitment that all the apprentice nominees have shown to achieving their best, whatever qualification they have been working towards.
"Many of them have also achieved personal successes, with their employers commenting on how much they had grown as individuals as well as developing their skills. It was really hard to choose the winners, but all those who were shortlisted should be so proud of their achievements.
The awards also celebrate those employers and training providers who have embraced apprenticeships and made the programmes so successful."
Clare Hughes, from the Greater Lincolnshire Local Enterprise Partnership, said: "The awards celebration is a great way to showcase how much an apprentice can achieve and congratulations go to all the champions and nominees. Every year, thousands of people in Lincolnshire start a job as an apprenticeship, because being an apprentice means that you earn a wage and you study for a qualification at the same time as gaining on-the-job skills and experiences that employers value."
In other categories, the Lincolnshire Apprenticeship Training Provider Champion was Grantham College, with a special commendation for HCF CATCH Ltd based in North East Lincolnshire.
The Lincolnshire Apprenticeship Employer Champion was Aaron Services - a large multi-fuel heating and hot water contractor with bases in Boston and Lincoln. A special commendation was awarded to Gifts from Handpicked.
Gail Dunn, Chair of the Lincolnshire Public Sector Compact group said: "This was another great event, and a big congratulations to all the winners. It's so important that we promote and