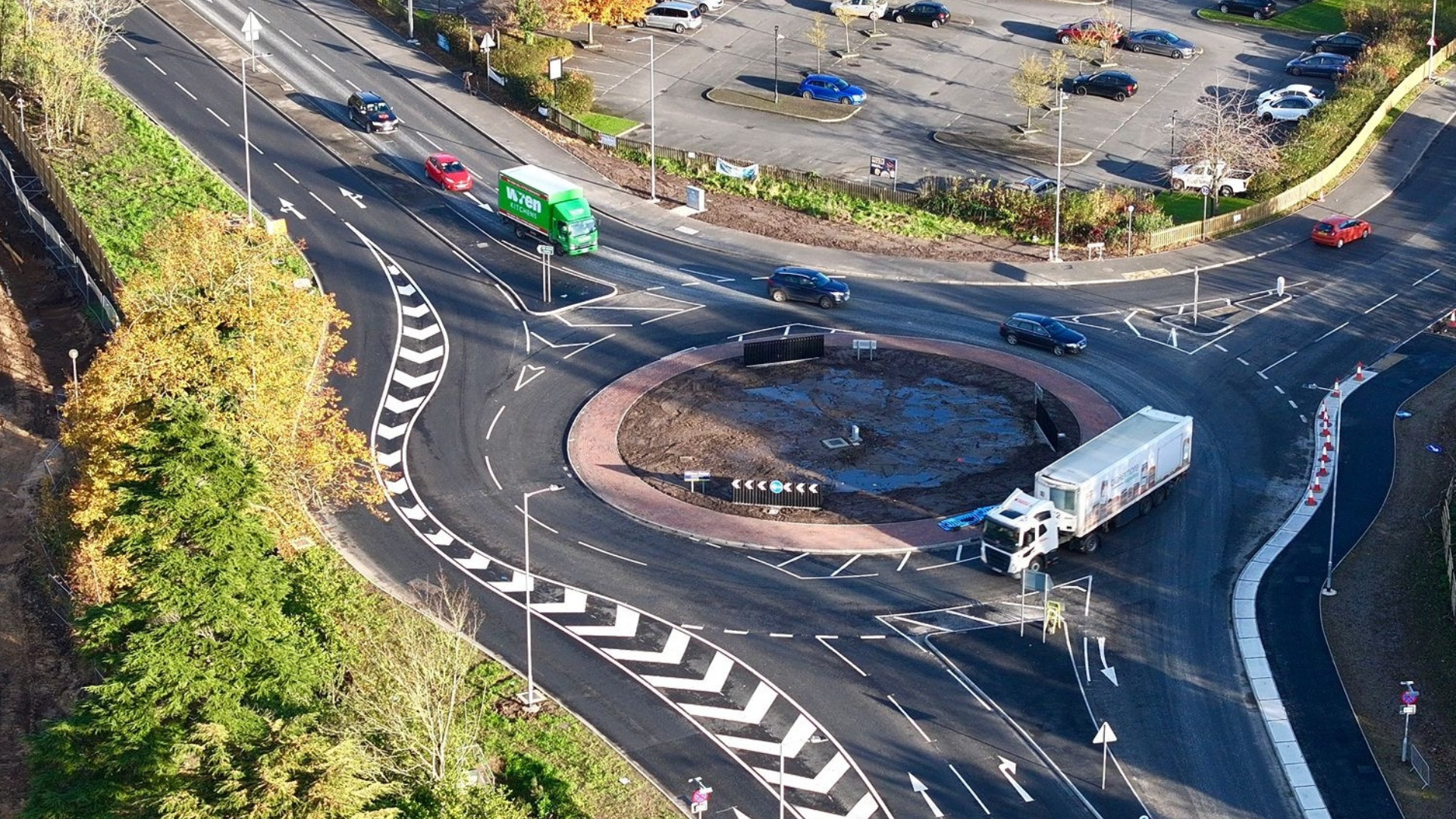 Major improvement works to reduce congestion and improve safety at Boston's A16/Marsh Lane roundabout are now complete.
Cllr Richard Davies, executive member for highways, said: "After six months of hard work, I'm incredibly happy to announce that our improvements to the A16/Marsh Lane roundabout are now complete and that the roundabout is fully re-opened.
"The goal of this important 'Levelling Up' project was to reduce congestion on the A16, improve safety and future-proof the roundabout for future A16 upgrades down the line. And now that we've added an additional northbound lane and a dedicated left-turn lane for those travelling south from Marsh Lane onto the A16, I think we will accomplish this.
"I want to thank everyone for their patience throughout the works, as I know some of the works would have been quite disruptive for drivers, as well as local residents and businesses.
"With Marsh Lane roundabout now re-opened, the focus is now on completing our improvements to the pedestrian and cycling links in and around the area."
Boston Active Travel update
As part of the final stage of the Boston Active Travel works, a 24/7 southbound-only road closure will be in place on London Road from Monday 20 November until Friday 1 December (subject to weather).
The diversion route for the closure will be via The Quadrant / A16, and vice versa.
Please note that immediately following the completion of the Boston Active Travel works at London Road, Vinci will be carrying out drainage works at the same location on behalf of the NHS. As part of this, a full closure of London Road will be in place starting Monday 4 December for one week and a southbound-only closure from Monday 11 December for two weeks.
Please contact the NHS or Vinci for any further details about these works.
Project overview
Cllr Davies said: "Both projects have taken a lot of time and effort, with 20,000 workforce hours spent, over a quarter-mile of new drainage installed and over 7,500 tonnes of tarmac, stone and other road-building materials used."
Below are some combined facts and figures about the Marsh Lane roundabout and Boston Active Travel projects:
Over 3,000 tonnes of material excavated
Nearly 20 new trees and 50m of new hedges to be planted
Over half a mile of new kerbing installed
35 new street lighting columns installed
10 new road crossings built, including six that are signalised
Over three quarters of a mile of new footway built
Both projects are funded by a portion of the £20m in 'Levelling Up' funding awarded to the county council in October 2021. The remaining funding is being used across three other projects, including improvements to Spalding's A16/A151 Springfield Roundabout and A16/B1180 Greencell Roundabout.
For more information about this and other major highways projects, visit www.lincolnshire.gov.uk/majorprojects.