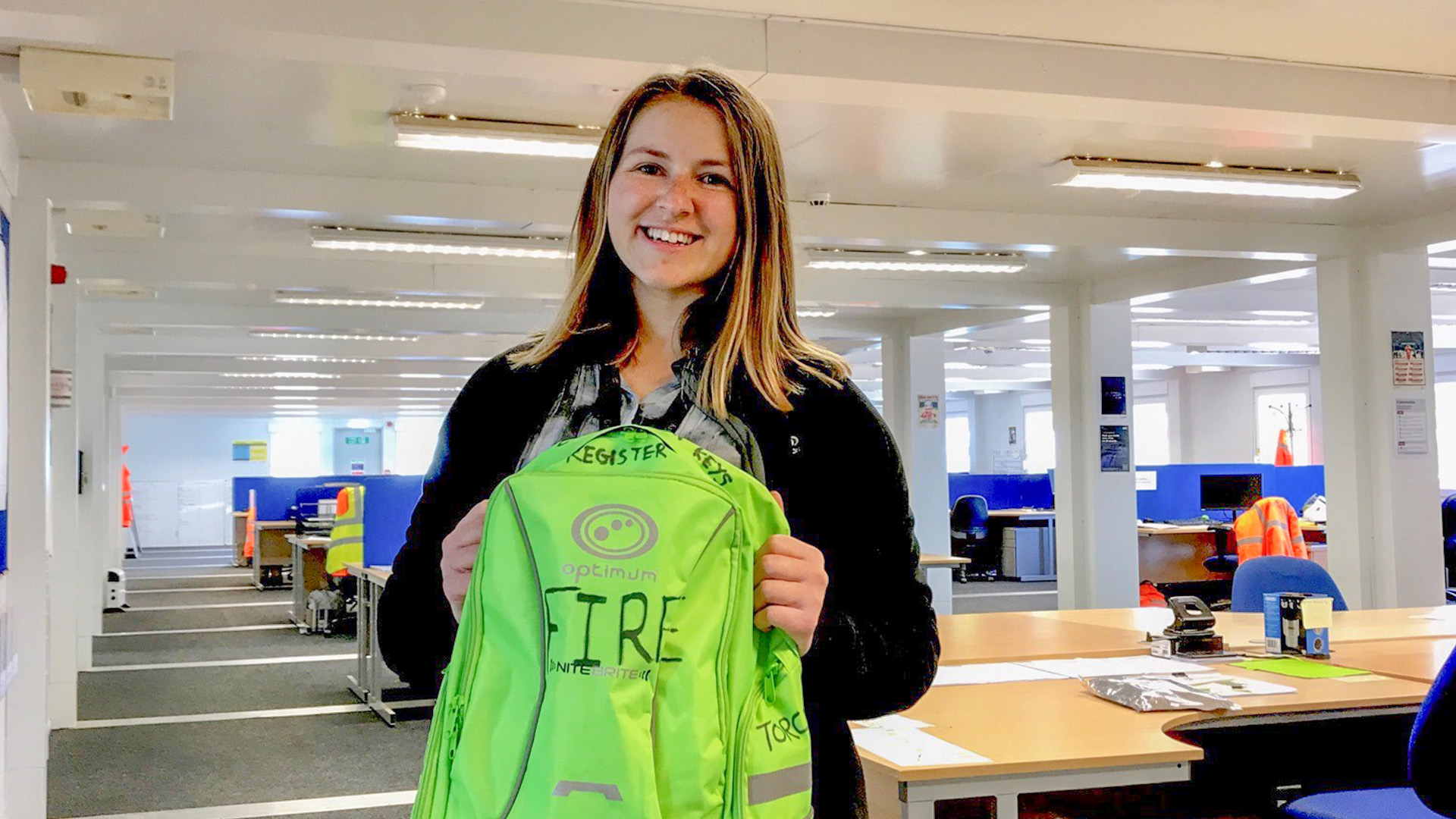 Lauren, following fire marshal training, has created an emergency bag that can easily be accessed during a fire.
Not only is Lauren Shaw a 24-year old Nottinghamshire-based graduate engineer responsible for on-site infrastructure and ensuring that the new relief road meets county council and Highways England specifications, but she is also one of the site's fire marshals.
While on a fire marshal training course last year, it was suggested that all relevant paperwork needed after a fire should be kept in one place near a set of van keys.
Lauren took this a step further by creating an emergency bag that can easily be accessed during a fire, which includes other essential items like a torch; first-aid kit; extinguisher fact sheet; a blank register; a map of the site; list of important phone numbers and contact details; pens; and a clipboard.
Lauren said: "I made this bag as I think it's always best to be prepared for the worst possible scenario, so considered what I may need in an emergency.
"The main benefit of the emergency bag is having everything in one place so that everything we need is in one place, strategically positioned next to the keys for vans on site, rather than having to run around finding everything."
During a recent site audit carried out by a Considerate Constructors Scheme (CCS) assessor, Lauren's emergency bag was noted as a key innovation. This helped contribute towards the site receiving an outstanding 5-Star Rating.
Lauren's emergency bag was then added to the Considerate Constructors website as best practice for construction sites across the UK – https://ccsbestpractice.org.uk/entries/fire-safety-grab-bag/.
Lauren added: "I was absolutely delighted to find out that CCS had decided to make my idea best practice, as I truly believe it will truly be a useful piece of kit in any emergency."
Cllr Richard Davies, executive member for highways, said: "We're all incredibly proud of Lauren for coming up with such a simple, yet effective, idea to help make our site, and others across the country, even safer.
"It's also reassuring to know that Lauren is part of the next generation of civil engineers. It goes to show that the country will remain in thoughtful, safe and capable hands for years to come."
Cllr Davies added: "The second phase of the Grantham Southern Relief Road project is continuing to progress well, with work still underway to build a new bridged junction connecting the A1 to the B1174.
"This month, the team will continue carrying out piling works to the western half of the new underpass, along with earthworks and drainage works for the western and eastern roundabouts beside the A1."
The Grantham Southern Relief Road project is being led by Lincolnshire County Council and supported by South Kesteven District Council, Greater Lincolnshire LEP, Highways England, Department for Transport, Network Rail, Homes England and local businesses.
For the latest news on the Grantham Southern Relief Road, visit www.lincolnshire.gov.uk/majorprojects.