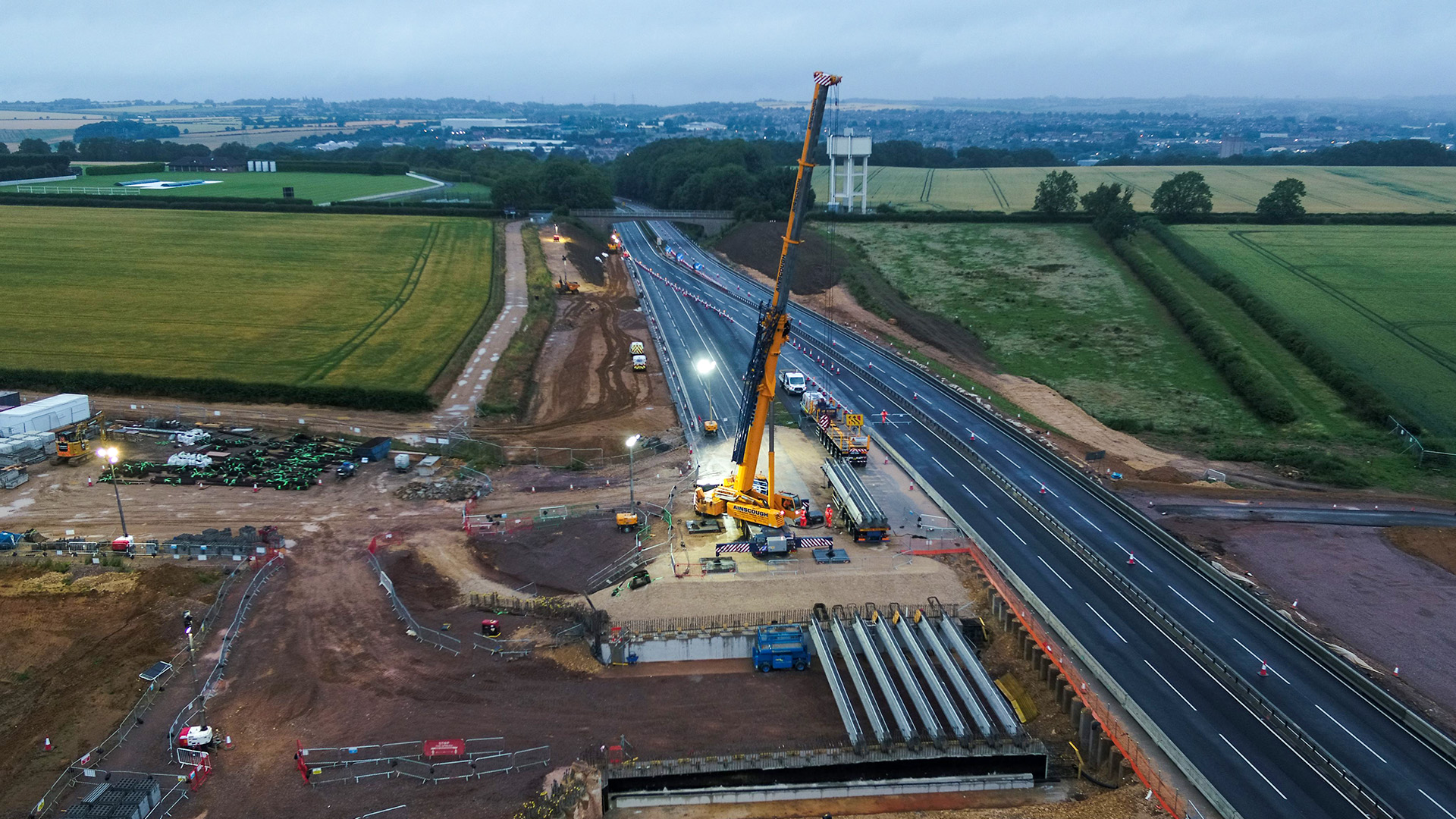 The first set of bridge beams have been lifted into place over the west side of the A1, forming an integral part of the Grantham Southern Relief Road.
Cllr Richard Davies, Executive Member for Highways and Transport, said: "This is big milestone for the relief road, since it signifies the progress we're making on one of the most complicated parts of the project.
"Now that all sixteen of these beams are in place on the western side, Galliford Try will make a start building the first half of the bridge deck over top of them.
"Once the team is finished the first half of the new A1 bridge, traffic will be diverted onto it as work on the eastern side begins – including lifting thirteen more beams into place."
Below are some facts and figures about the bridge beams and the new bridge, itself:
The beams were lifted into place overnight from Mon 6 to Weds 8 July
All the bridge beams have been / will be manufactured by Shay Murtagh's in Ireland
When complete, the bridge will span for 17½ metres as part of the A1, with four new slip roads constructed off of and under the A1
A crew of six specialist operatives will be on site to safely place the beams into place with a 250-tonne crane
The bridge beams are constructed using pre-cast concrete
A total of 120,000 work hours have been spent on the constructing the new A1 connection, including the manufacture of the bridge beams
Cllr Davies added: "Getting these beams lifted into place and constructing the bridge deck is just one of the many important jobs happening on-site at the moment.
"We're also hard at work getting the new connecting roundabouts built, as well as the north and sound-bound on and off slip roads.
"The scheme as a whole is progressing really well, and we're looking forward to having the entire relief road opened during 2023."
Please note that two additional night-time northbound A1 road closures will be in place on the evenings of Thursday 9 and Friday 10 July.
The Grantham Southern Relief Road project is being led by Lincolnshire County Council and supported by South Kesteven District Council, Greater Lincolnshire LEP, Highways England, Department for Transport, Network Rail, Homes England and local businesses.
For the latest news on the Grantham Southern Relief Road, visit www.lincolnshire.gov.uk/majorprojects.