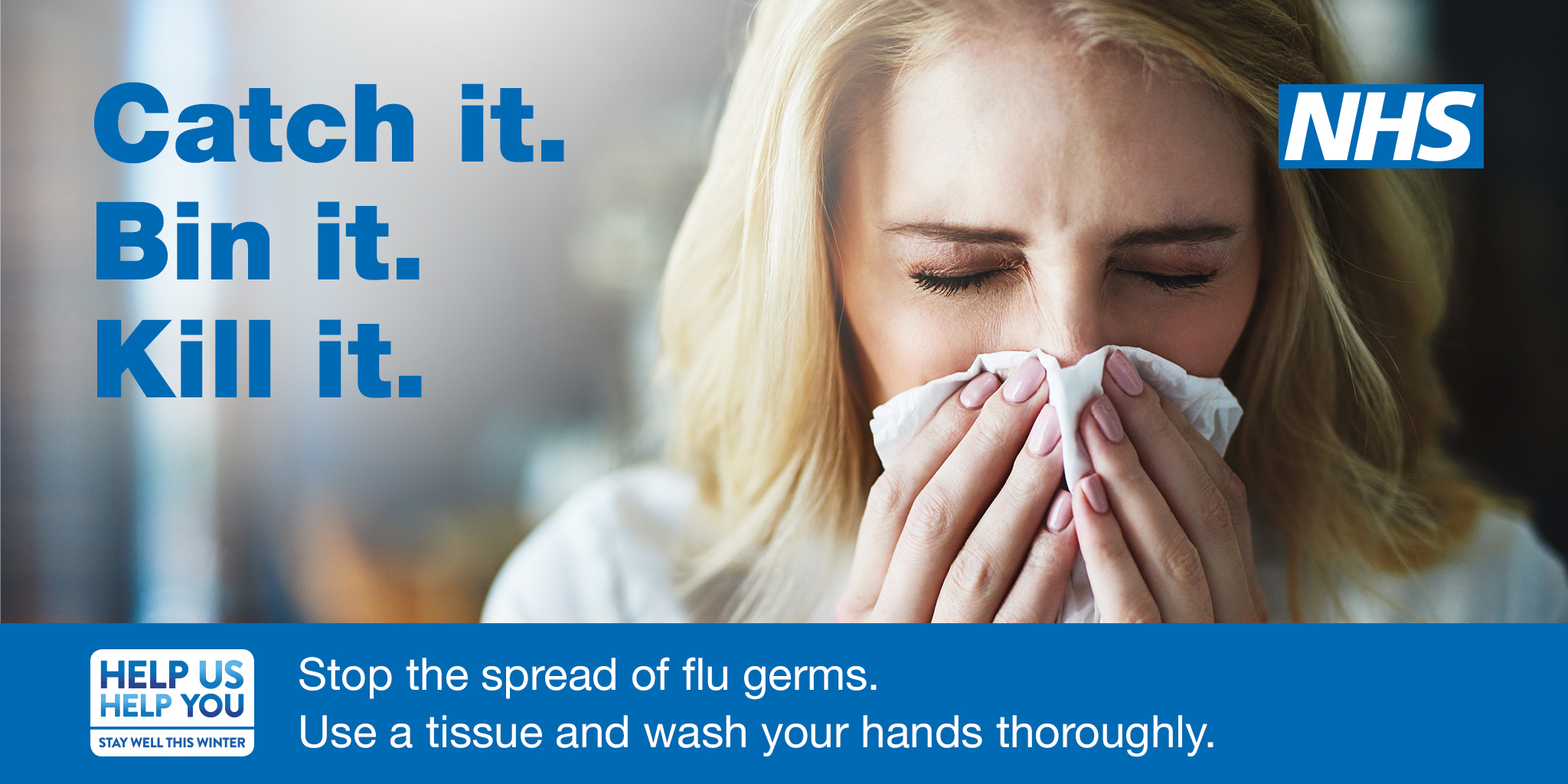 Take steps to protect yourself and your loved ones against illness this winter.
2020 will long be remembered as the year when the nation worked together to halt the spread of Covid-19.
Major restrictions to our daily lives, to protect us from the virus and reduce the pressure on our NHS, have also led to a reduction in the spread of other infectious diseases in Lincolnshire. This shows how our own individual actions can make a big difference in the fight against disease.
Good hand hygiene (regular washing with soap), covering your mouth when coughing or sneezing and reduced contact with others while infectious, can help reduce the spread of many infections, not just Covid-19.
With winter approaching, it's important we do all we can to keep ourselves and others safe from illnesses.
Fighting flu
Influenza (flu) is a virus which spreads from person to person through droplets that are produced when a person sneezes or coughs. These may be inhaled directly or picked up from contaminated surfaces.
Most people who get flu feel achy, hot and then cold, tired and have a sore throat and cough. The symptoms of flu may be similar to those of Covid-19.
If you have any of the symptoms of Covid-19 you should follow the current guidance for this infection. Otherwise healthy people will usually recover from flu within a week or two with bed rest and plenty of water. Antibiotics do not help treat flu.
Like coronavirus, flu can cause severe illness and even death among vulnerable groups, including those over 65 years old, pregnant women and people with an underlying health condition.
The good news is that there is a safe and effective vaccine to protect those most vulnerable, as well as those most likely to spread infection. These people are advised to have a flu vaccine each year.
Mental wellbeing
Looking after our mental health is important for all ages, especially when we haven't been able to mix with friends or family in the usual way. Emotional support for adults can be accessed through Wellbeing Lincs.
Emotional wellbeing and mental health support for children and young people in Lincolnshire continues to be available using more telephone/video- call and online methods.
Young people aged 11-19 can go to www.kooth.com for online support, forums and advice or visit www.lpft.nhs.uk/young-people for self-help including relaxation techniques, videos and online workshops
The Lincolnshire Here4You line offers advice about children's emotional wellbeing and mental health concerns - 01522 309120 (Monday to Friday 9.30am to 4.30pm)
Visit www.lincolnshire.gov.uk/emotionalwellbeing to see a full list of services available
The latest government guidance to prevent the spread of Covid-19 can be found at www.gov.uk/coronavirus
To find out if you are eligible for a free flu vaccination, speak to your GP or visit www.nhs.uk/flu