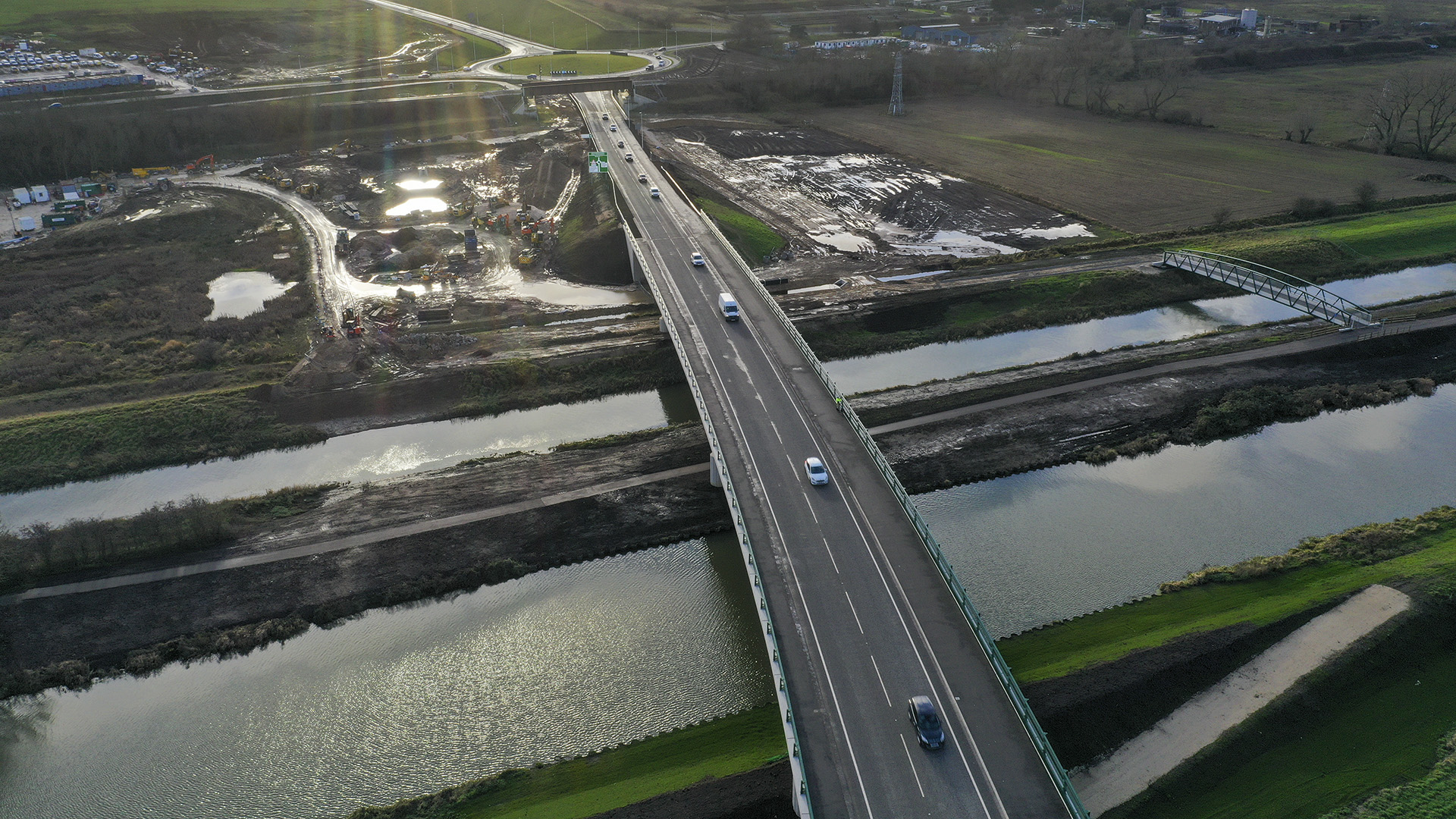 Lincoln's new 4.5 mile long bypass has officially opened, connecting the A15 Sleaford Road to the A158 Wragby Road.
Cllr Richard Davies, executive member for highways, said: "This is fantastic news, not just for Lincoln and the surrounding area, but for the county as a whole.
"Now that the bypass is open, people will see a big reduction in the number of cars and HGVs travelling through Lincoln, including 25% less on Broadgate alone.
"Not only that, but the road has also opened up land for new housing, which will help boost the city's and county's economies over the coming years."
As part of the scheme, four new roundabouts and eight new bridges have been built, in addition to the team moving 2.2 million tonnes of soil and earth and laying 154,000 tonnes of tarmac and other road surfacing.
To date, £122 million has been spent on the project. However, the final cost of the road is still being finalised and will not be known until all the accounts have been settled in the coming months.
The additional cost over £120 million can be attributed to the impacts of coronavirus and periods of extreme wet weather during 2019 and 2020.
Cllr Davies continued: "This project has faced challenge after challenge, from Carillion going into liquidation and unprecedented wet weather to internationally-significant archaeological finds and now coronavirus.
"But our project team, including Galliford Try, has done an excellent job tackling each and every one put in front of them.
"This road a true testament to the hard work and dedication of all the people who have worked tirelessly to make this new bypass a reality, including Lee Rowley – the project's former project leader.
"Lee passed away in 2017, but was instrumental in steering the scheme through a rigorous public inquiry process and securing funding from the Department for Transport.
"With the new bypass now open, we'll be focusing our efforts on getting the final piece of Lincoln's full ring road – the North Hykeham Relief Road – ready for construction now that Central Government has allocated £110m towards the scheme."
Cllr Martin Hill, the leader of Lincolnshire County Council, said: "This scheme has been a massive undertaking and will, no doubt, play an important role in the growth of Lincoln and Lincolnshire now and into the future.
"Maintaining and improving the county's roads are a key part of what we do, so we will continue developing new projects like this one to help make getting into and around the county safer and easier for residents and visitors alike."
Transport Minister, Baroness Vere, said: "This scheme will completely change how people get around the county; congestion will ease in Lincoln city centre and traffic on Broadgate will reduce by a quarter as a result of the works.
"Residents will enjoy better and easier access to the city and the new bypass will unlock housing and economic developments, expected to boost the local economy by roughly £600 million as we build back better following the pandemic.
"The New Lincoln Eastern Bypass is a fantastic example of this government's commitment to levelling up transport for everyone all over the country."
Lincoln MP Karl McCartney said: "It is always fantastic news to see improvements to our local infrastructure – but seeing the completion of this massive project is a terrific and positive ending to what has undoubtedly been a difficult year for us all.
"This new bypass will reduce congestion in and around Lincoln and will support economic growth by making our city even more attractive – opening up development land for both business and residential purposes.
"Of course, this is not the end of our bypass improvements. This road is the second to last piece of a full ring-road for Lincoln, with the North Hykeham Relief Road forming the final piece.
"I know that both my colleagues on the county council and colleagues within Government are very keen to ensure we launch this project to complete the ring-road around Lincoln in the very near future."
Tim Bowers, Project Director for Galliford Try, said: "We are really pleased to have constructed the Lincoln Eastern Bypass which provides significant benefits for the people of Lincoln and the surrounding area.
"The project has overcome multiple challenges during construction, which is testament to the dedication of the site team in creating this landmark project."
The 4.6 mile Lincoln Eastern Bypass project is part-funded by a £50m Central Government capital grant and will improve Lincoln's infrastructure, encourage growth, minimise traffic congestion and enhance the inter-city environment.
For the latest news on the Lincoln Eastern Bypass, visit www.lincolnshire.gov.uk/leb.