About the project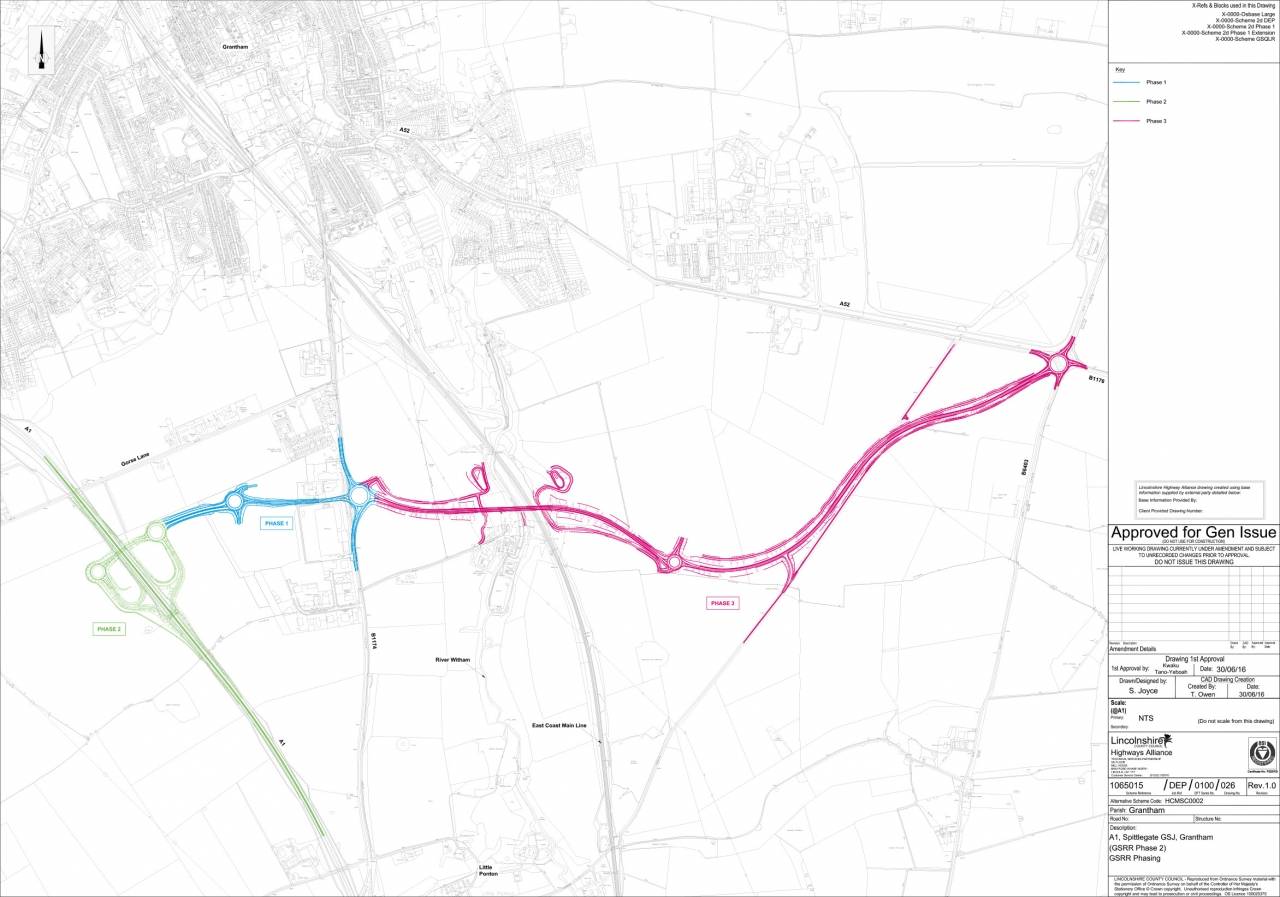 Grantham Southern Relief Road
The Grantham Southern Relief Road aims to improve the town's infrastructure and growth.
We will build the 3.5km relief road in three phases:
Phase One - creation of a roundabout off the B1174.
Phase Two - the B1174 will join the A1 trunk road.
Phase Three - link the A52 at Somerby Hill to the new roundabout.
We lead the project, supported by South Kesteven District Council, Homes England and the Greater Lincolnshire LEP. Further support comes from Highways England, the DfT, Network Rail and local businesses.
Aims and benefits
The project aims and benefits are to:
reduce congestion, disruption, and delays
create a safer, more attractive and accessible town centre
provide opportunities for growth
reduce carbon emissions and noise pollution
Cost and funding
The estimated cost is £133 million and will be funded as follows:
£11.9m from the Local Transport Board
£16.1m from the Single Local Growth Fund
£5m from the Highways England Growth and Housing Fund
In addition to the £133 million, the bridge extension is expected to cost a further £15 million.
The balance of funding will come from developer contributions, which will be forward funded by us. We will also be funding part of the scheme.
Timeline
December 2007: Grantham awarded Growth Point status
August 2010: Phase One and Two planning permission granted
November 2013: Phase Three planning permission granted
June 2014: The business case for the relief road is published
September 2015: Fitzgerald Civil Engineering appointed and construction of Phase One begins
August 2016: Phase One officially opens
November 2016: Archaeologists arrive on-site as part of Phase Three
March 2017: Phase Two hedge clearance preparatory works begin
January 2018: Phase Two archaeological investigations begin
March 2018: Legal orders promoted
January 2019: Public inquiry
March 2019: Secretary of State approves orders and construction of Phases Two and Three
TBC 2025*: Relief road fully built/project complete
*All future dates are projected and subject to change dependent on external factors.