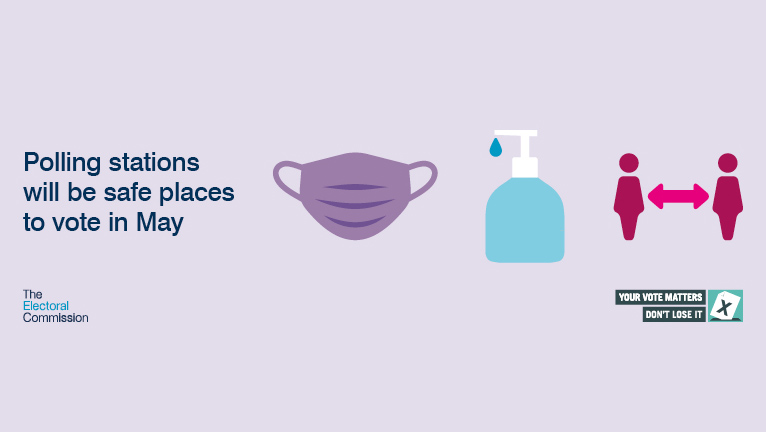 On Thursday 6 May 2021 local elections are taking place to appoint members to Lincolnshire County Council. If elected, candidates will serve for a term of four years.
Lincolnshire County Council is made up of 70 councillors and is currently Conservative-led. All 70 seats are being contested in this election, which means that a party would require 36 seats to be able to form a majority.
The Returning Officer is Chief Executive, Debbie Barnes.
Voting
To keep up with the latest results, view our live elections page.
The candidate list for the 6 May 2021 local elections is available online.
In the county council elections, you should put a cross next to the one candidate you want to vote for.
Polls will be open from 7am to 10pm on Thursday 6 May 2021.
Safety measures will be put in place at polling stations to keep voters safe. You will need to wear a mask, and you should bring your own pen or pencil to mark your ballots.
The count
Votes in the county council elections will be counted on Friday 7 May.
Polling stations will close on Thursday night at 10pm. The counting process is managed by district councils across the county at the following venues:
Boston Borough Council:
Peter Paine Performance Centre, Rosebery Avenue, Boston PE21 7QR
City of Lincoln Council:
County Assembly Rooms, 76 Bailgate, Lincoln LN1 3AR
East Lindsey District Council:
Meridian Leisure Centre, Wood Lane, Louth L11 8SA
North Kesteven District Council:
OneNK Sports Centre, Moor Lane, North Hykeham, Lincoln LN6 9AX
South Holland District Council:
Castle Sports Centre, Albion Street, Spalding PE11 2AJ
South Kesteven District Council:
Grantham Meres Leisure Centre, Trent Road, Grantham NG31 7XQ
West Lindsey District Council:
West Lindsey Leisure Centre, The Avenue, Gainsborough DN21 1EP
Media and members of the public will only be permitted to the counts by prior arrangement with the respective district council.
The returning officer at each district will announce the results in their area and then relay that information to the main results centre at County Offices, Lincoln.
As the results come in, they will also be uploaded onto www.lincolnshire.gov.uk/elections and publicised via the county council's Facebook, Twitter and Instagram profiles.
Current political makeup of Lincolnshire County Council
Conservative – 54 seats (77.1%)
Independent – 6 seats (8.6%)
Labour - 5 seats (7.1%)
Independent (none-aligned) - 2 seats (2.8%)
Liberal Democrat – 1 seat (1.4%)
Lincolnshire Independent – 1 seat (1.4%)
1 vacancy