We commit to providing opportunities for potential employees and to grow our own workforce.
No matter your position, your age or your experience we have opportunities to help you gain and develop new skills and knowledge.
Apprenticeships combine practical training with study in your current job role and include:
80 per cent on-the-job training
20 per cent commitment to off-the-job training or academic learning
These programmes are ideal for individuals that want more of a practical and work-related approach to learning.
We currently have over 70 apprenticeship options, across four different levels:
Intermediate (level 2) - equivalent to five GCSE passes at grade A* to C or 9 to 4
Advanced (level 3) - equivalent to two A level passes, Level 3 Diploma, or International Baccalaureate
Higher (levels 4 - 7) - equivalent to a foundation degree and above
Degree (level 6 and 7) - equivalent to a bachelor's or master's degree
Approved apprenticeships are fully funded by the apprenticeship levy.
View our apprenticeship target report for 2020-21.
Case studies
Nathan Booth
Nathan completed the Business Administration, L3 apprenticeship through our Employer Provider Centre. Nathan said that he chose to undertake this apprenticeship to learn the administration principles that function across Lincolnshire County Council and to develop the skills to support the wider organisation.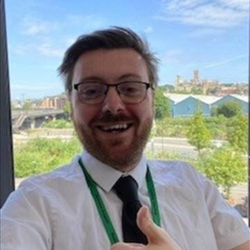 Nathan felt supported by his manager, the apprenticeship team and his peers who also undertook this apprenticeship and especially enjoyed the events that allowed him to work cross-functionally with other teams.

While undertaking the apprenticeship, Nathan said the skills he has learnt has supported him in offering solutions within his team regarding the environment and efficiency.
When asked if he would recommend an apprenticeship to his peers, Nathan said 100% it has been an experience that went above his expectations.
Rebecca Jeffrey
Rebecca started her learning journey at YPLP in October 2021, she said: "I couldn't believe I found somewhere where I wasn't worried or overwhelmed all the time and where I could get the proper support I needed." Rebecca enjoyed helping her peers and had the opportunity to complete some work experience as a Learning Support Assistant (LSA) where she thrived and felt that the LSA role was an exciting career prospect.
She went on to successfully complete Customer Service Qualifications and an Employability Qualification.
Rebecca continued to develop as a Learning Support Assistant (LSA) and has now become part of the YPLP team and is completing a L3 Teaching Assistant Apprenticeship. She said: "I am very excited to start and be part of this great team. I feel very thankful for this opportunity and the stability for the option of progression after my apprenticeship."

Further advice
Find out more about being an apprentice on GOV.uk.
Join our talent team at the next Greater Lincolnshire Jobs Fair.
To search for apprenticeships across England, visit the National Apprenticeship Service.