About the project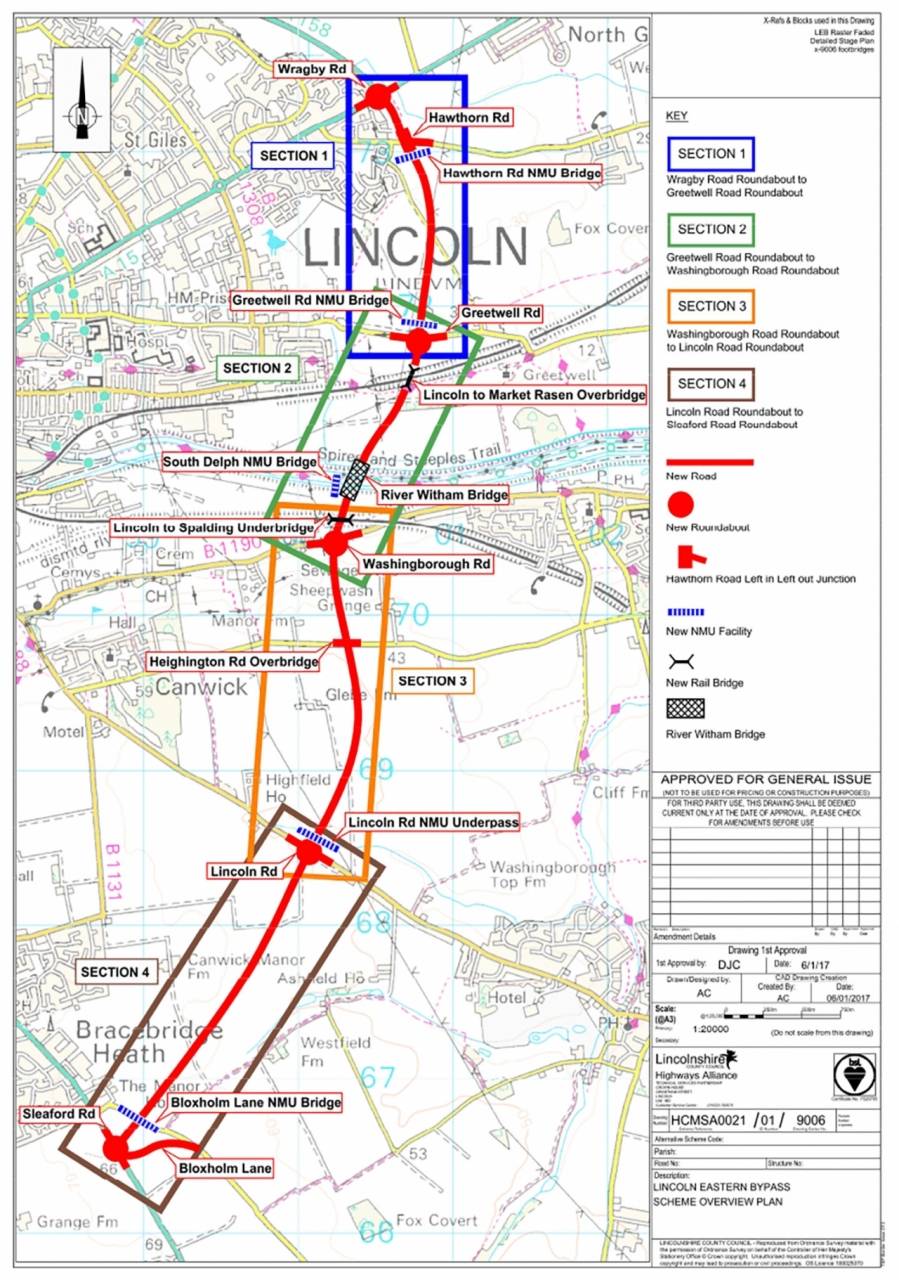 Planned bypass route
The A15 Lincoln Eastern Bypass is a 7.5km road designed to improve Lincoln's infrastructure, encourage growth, minimise traffic congestion and enhance the inter-city environment.
When complete, the bypass will start at a new roundabout on the A15 Sleaford Road and finish at the A158 Wragby Road.
This will connect with the existing northern relief road and become the next step towards creating a complete ring road around the city.
Lincolnshire County Council, the Department for Transport, and the three district authorities (City of Lincoln Council, West Lindsey and North Kesteven District Councils) back the project.
Take a virtual 3D flight along the route of the Lincoln Eastern Bypass.
Take a drone flight along Lincoln Eastern Bypass to see work in progress.
An interactive aerial 360' panorama of the project works.
Aims and benefits
The project aims and benefits are to:
support Lincoln's growth, in terms of economy and development
reduce congestion in and around Lincoln
enhance the inter-city environment
open up land for new housing
reduce carbon emissions
improve air and noise quality
serve as the second to last step towards a complete ring road around the city
incorporate a future-proofed design
Cost and funding
The project is estimated to cost £120 million and will be funded as follows:
£50m of from central government funding,
£37m from the county council
£34m from third-party developers
The third-party developer's costs will be forward-funded by the county council.
Timeline
December 2012: Planning permission submitted
June 2013: Planning permission granted
August 2015: Public inquiry takes place
May 2016: Contractors arrive on-site to build 130m track for access
October 2016: Carillion selected as the preferred contractor
December 2016: Network Rail begins work to build a railway bridge over the new bypass
June 2017: Main construction works begin
July 2017: Work on Market Rasen line rail bridge begins
October 2017: Network Rail Lincoln to Spalding Railway underbridge slid into place
January 2018: Carillion goes into liquidation and LCC terminates works contract
February 2018: The first package of construction works awarded to Galliford Try
April 2018: Washingborough railway bridge complete
June 2018: The remainder of construction works awarded to Galliford Try
July 2018: Main archaeology excavations complete
December 2018: Lincoln to Market Rasen open to site traffic
December 2018: Temporary River Witham haul bridge complete
August 2019: Lincoln Road roundabout complete
October 2019: Hawthorn Road NMU bridge complete
October 2019: Sleaford Road Roundabout complete
December 2019: Greetwell Road Roundabout complete
January 2020: Heighington Road bridge complete
March 2020: South Delph footbridge complete
August 2020: Bloxholm Lane footbridge complete
August 2020: Greetwell Road footbridge complete
August 2020: Washingborough Road Roundabout complete
December 2020*: River Witham Viaduct complete
December 2020*: Project complete
*All future dates are projected and subject to change dependent on external factors.